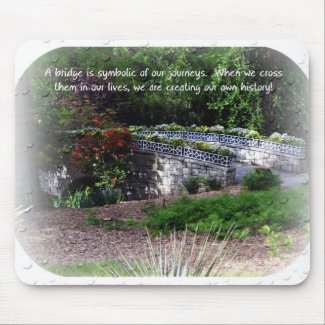 This is a very special Zazzle Design. A friend of mine who has always been supportive and encouraging of my art and photography place a comment on another photo I did of a bridge scene from the Botanical Gardens. Her comment was filled with so much wisdom and feelings that I asked her if it was okay if I used the words on one of my designs. Being who this beautiful person is, she said yes and this picture is the design I created.
I had to search through my photography to find just the right photo and when I seen this one, I knew it was it. I changed her words slightly but kept the true meaning of her comment. If you stop and think about it, I mean really think about it, a bridge is very symbolic of the journeys that we have in life. Every time we cross a bridge to get to the other side, we are developing our own history.
When you stop and think about every experience we go through good and bad, each experience teaches us something whether we get the meaning or not. Those experiences help us to grow and reach a higher level in our own life. Often there will be times when we experience horrible sad things and we will think that there is no lesson to learn from this event, but instead we wonder if we are being punished in some odd way. What did I do to have to go through this? Why is this happening to me? Am I that bad of a person to have to go through this?
The Divine that I believe in, does not send hurtful experiences to teach us things, often things happen and it is up to us to understand a deep meaning. These words really hit home for me within the last couple of months, the things I have experienced literally left me in a whirlwind and yet within the next two weeks I have to experience more. I know for sure that I am not being punished, but I am going through these experiences to learn something very important. What little bit I have figured out is this: Life is precious and it is very short. We need to take every moment we can and see all of the beauty in life and be grateful for every thing that comes into our life. Because in a snap of a finger, our whole reality can be flipped and leave us in a whirlwind of confusion.
Some other products on Zazzle




This is some of my work on Amazon