Often when I see certain flowers or certain things in Nature, they symbolize a word to me. I have been taking these photos and turning them into beautiful messages and posting them at in WhiteOak's Photography at Zazzle. The reason this photo represents "Happiness" is because of the way it made my mother smile. Often flowers can make a person just feel good. This inspired me to write this: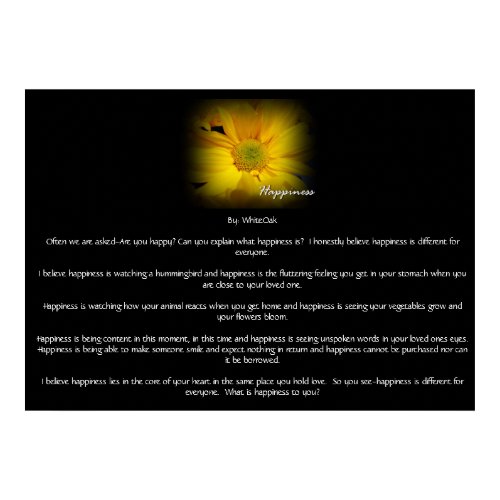 Happiness
WhiteOak
Often we are asked-Are you happy? Can you explain what happiness is?
I honestly believe happiness is different for everyone.
I believe happiness is watching a hummingbird and happiness is the fluttering feeling you get in your stomach when you are close to your loved one.
Happiness is watching how your animal reacts when you get home and happiness is seeing your vegetables grow and your flowers bloom.
Happiness is being content in this moment, in this time and happiness is seeing unspoken words in your loved ones eyes.
Happiness is being able to make someone smile and expect nothing in return and happiness cannot be purchased nor can it be borrowed.
I believe happiness lies in the core of your heart in the same place you hold love. So you see-happiness is different for everyone. What is happiness to you?
Here are a few more of my photos that have inspired me:
Until Next Time,
Wishing you a very Blessed Day.
Want to join a fantastic site where you can share your links AND earn money? Come join me at: